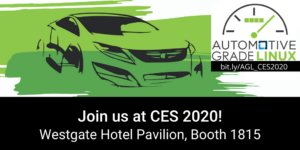 Automotive Grade Linux Booth at CES 2020 Showcases 2020 Mazda CX-30, 2020 Toyota RAV4, and 20+ Open Source AGL-Based Demos
18 AGL members including DENSO, DENSO TEN, Mazda, Panasonic, Renesas, NTT DATA MSE, and Suzuki, will show instrument cluster, infotainment, connected car, and cybersecurity applications running on AGL technology
SAN FRANCISCO, December 3, 2019 – Automotive Grade Linux (AGL), a cross-industry effort developing an open source platform for all connected car technologies, will be at  CES 2020 demonstrating open source infotainment and instrument cluster applications along with 20+ connected car demonstrations developed by AGL members.
The AGL Booth in the Westgate Hotel Pavilion #1815 will feature a 2020 Toyota RAV4 with an AGL-based multimedia system that is currently in production, a 2020 Mazda CX-30 showcasing a proof of concept (POC) demo using new AGL reference hardware, and automotive technology demonstrations by: AISIN AW, DENSO, DENSO TEN, Igalia, IoT.bzh, LG Electronics, Mazda, Microchip, NTT DATA MSE, OpenSynergy, Panasonic, Renesas, SafeRide Technologies, Suzuki, SYSGO, Tuxera and VNC Automotive. The booth will be open to the public during CES show hours from January 7-10, 2020.
"Instrument Cluster has been a big focus over the past year, and we look forward to demonstrating the amazing work being done by our members to optimize the AGL platform for use in lower performance processors and low-cost vehicles, including motorcycles," said Dan Cauchy, Executive Director of Automotive Grade Linux at the Linux Foundation. "We are proud to be showing vehicles from Toyota and Mazda and we will also have 20+ open source demos in our booth, a small sampling of some of the AGL-based products and services that automakers and suppliers continue to bring to market."
AGL is an open source project hosted at the Linux Foundation that is changing the way automotive manufacturers build software.  More than 150 members, including 11 automakers, are working together to develop a common platform that can serve as the de facto industry standard for infotainment, telematics, and instrument cluster applications. Sharing an open platform allows for code reuse and a more efficient development process as developers and suppliers can build once and have a product work for multiple automakers.
The AGL Unified Code Base (UCB) platform includes an operating system, middleware and application framework, and provides 70-80% of the starting point for a production project. Automakers and suppliers customize the other 20-30% of the platform with features, services and branding to meet their product and customer needs.
Many AGL members have already started integrating the UCB into their production plans. Mercedes-Benz Vans is using AGL as a foundation for a new onboard operating system for its commercial vehicles. Toyota's AGL-based infotainment system is now in Toyota and Lexus vehicles globally and will be on display in the AGL booth in a 2020 Toyota RAV4. A list of additional products and services that support AGL are available are in the AGL Vendor Marketplace.
AGL DEMOS AT CES 2020
The AGL booth will feature several core UCB demos developed collaboratively by the AGL community, as well as 20 product and proof of concept (PoC) demos.
The AGL booth will be open to the public during CES show hours and during the AGL Evening Reception & Demo Showcase on Wednesday, January 8, from 6:00 – 8:00 pm PT. Additional details and registration for the Evening Reception are available here.
Media and analysts are also invited to attend an AGL Media Happy Hour at CES on Tuesday, January 7, from 3:00 – 5:00 pm PT in the AGL booth. RSVP here or contact us to schedule an on-site briefing.
Core AGL UCB Demos:
Instrument Cluster: Infotainment and Instrument Cluster applications using container technology to run on a single microprocessor core. The speedometer and tachometer, along with a center display, show information from the infotainment system such as map data and media player information.
Infotainment: demonstrates media player, tuner, navigation, web browser, Bluetooth, WiFi, HVAC control, and audio mixer applications running the latest Happy Halibut code release (8.0.4). Adjust the HVAC or control multimedia via voice recognition with Amazon Alexa.
Steering wheel: A production steering wheel from Suzuki is incorporated into both demos. The second demo unit features the Infotainment and Instrument Cluster running on different boards with a CAN bus connection between them to share commands from the steering wheel as well as other vehicle data such as speed from a basic vehicle simulation. Commands available from the steering wheel include media functions and cruise control.
Demos by AGL members:
###
Media Inquiries
Emily Olin
pr@automotivelinux.org