Automotive Grade Linux (AGL) is a Project of the Linux Foundation. The Project is overseen by an Advisory Board and Steering Committee with technical leadership provided by the System Architecture Team.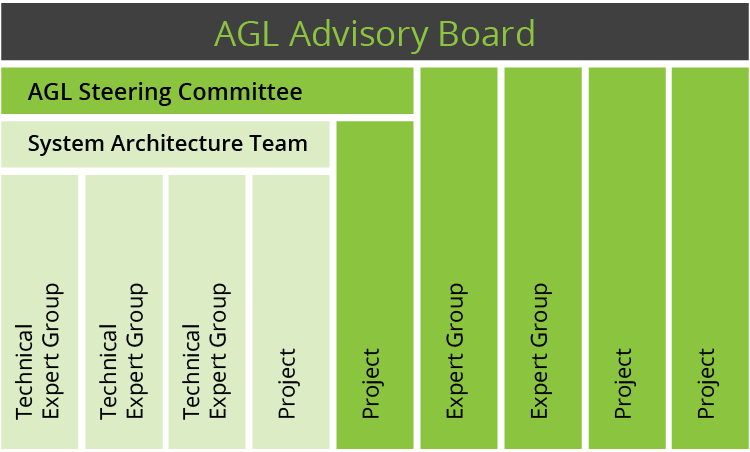 The AGL Advisory Board is responsible for setting the overall direction and budget of the Project
The AGL Steering Committee runs the day to day activities of the Project

Providing expertise and guidance to advance AGL's adoption and technical success.
Supporting the project with resources that actively contribute to further the goals of the AGL Project including code development, specifications, test, documentation, marketing and more.

The System Architecture Team (SAT) is responsible for the overall AGL technical architecture and oversees the implementation of the AGL reference hardware and software solutions.
Expert Groups are formed by the Steering Committee or Advisory Board can be technical or non-technical in nature. Expert Groups generally fall into one of these categories

A Standing Committee that is responsible for a particular function or has specialized knowledge within the Project. Examples could be integration, QA, process management, legal, marketing, security, or application framework.
A Team that is responsible for a specific part of of the software on an on-going basis. Generally this team would be the system maintainers for a part of the code base.