What is Automotive Grade Linux?
Automotive Grade Linux is a collaborative open source project that is bringing together automakers, suppliers and technology companies to accelerate the development and adoption of a fully open software stack for the connected car. With Linux at its core, AGL is developing an open platform from the ground up that can serve as the de facto industry standard to enable rapid development of new features and technologies.
TESTIMONIALS
"The flexibility of the AGL platform allows us to quickly roll-out Toyota's infotainment system across our vehicle line-up, providing customers with greater connectivity and new functionalities at a pace that is more consistent with consumer technology,"
"We're delighted to support the work AGL is doing to bring in-car voice experiences to customers," said Ned Curic, Vice President, Amazon Alexa. "It's day one for Alexa in cars, and AGL's work will be instrumental in building a voice-first future for the automotive industry."
Latest News, Blogs and Events
UCB 16.0 "Prickly Pike" Available
The latest version of the open source AGL platform, UCB 16, also known under the codename "Prickly Pike," is available for download.
Read More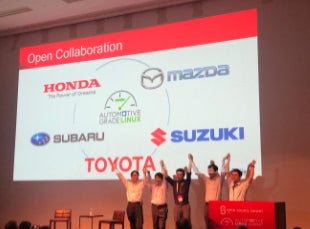 Executives from Honda, Mazda, Subaru, Suzuki and Toyota on stage together at Automotive Linux Summit 2018.
BECOME A MEMBER
The world's leading car manufacturers and suppliers have joined the Automotive Grade Linux Collaborative Project to support the development of open source software solutions for automotive applications.
LEARN MORE
{"slides_column":"7","slides_scroll":"1","dots":"false","arrows":"true","autoplay":"true","autoplay_interval":"1000","ticker":"false","speed":"1000","center_mode":"false","loop":"true","rtl":"false"}