The AGL community is comprised of a diverse set of member companies that are collaborating on enabling the next generation of in-vehicle software systems. This blog series highlights AGL members and how they are contributing to open source software solutions that will benefit the entire automotive industry.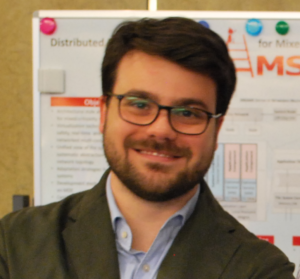 Name: Michele Paolino
Title: Virtualization Architect
Company: Virtual Open Systems
Can you tell me a little bit about Virtual Open System and your role within the company?
I am working as a virtualization architect at Virtual Open Systems, an innovative and dynamic company operating in open source and virtualization technologies. The company's objective is to apply virtualization in different verticals such as cyber physical systems, networking and automotive. For example, Virtual Open Systems developed VOSYSmonitor, a certifiable virtualization solution for automotive based on ARM TrustZone that supports AGL.
My role is centered around the design and development of virtualization solutions for servers and embedded systems. I am also leading the AGL Virtualization Expert Group (EG-VIRT) and I developed AGL support for the KVM hypervisor on the Renesas R-Car M3.
Why is your company investing in open source?
Virtual Open Systems is an open source company and investing in it is an important part of what we do. We took the lead on porting KVM on the ARMv7 architecture and to date have contributed to several projects like the Linux kernel, QEMU, libvirt and AGL.
We believe in open source knowledge sharing and leveraging open source components to provide customized solutions to our customers.
How is virtualization being used in the car? What does it enable?
The car electronics architecture is very complex with many different systems connected to provide advanced functions like autonomous driving, high speed connectivity and infotainment. With the increasing demand of new features and functions in the car, the old architecture remains inefficient and does not scale, lacking the flexibility to support future requests of the customers.
Virtualization simplifies such architecture, consolidating multiple functions on a single hardware platform and therefore reducing hardware and wiring costs, simplifying maintenance and improving the flexibility.
The classic example of virtualization deployment is the concurrent execution of both an IVI and an instrument cluster systems on the same platform. However, virtualization can be also applied to ADAS and telematics.
How is Virtual Open Systems involved in AGL?
We proposed and created EG-VIRT, the working group which aims to provide automotive Tier-1 and OEM companies with an open source virtualization infrastructure that enables ADAS and connected applications. Our working group stemmed from interest in the community and acknowledgement of the lack of virtualization in the automotive industry's vocabulary at the time.
Today, EG-VIRT is working on AGL's first technical white paper, which will be released by Q1 2018. The objective of the white paper is to define the key pillars of the architecture and to pave the way for the development of the AGL virtualization infrastructure. The key benefit of such infrastructure for Tier-1 and OEMs is that it will provide a way to easily differentiate innovative and connected automotive products on the market.
Interest continues to grow in our working group; twelve people attend the EG-VIRT call and we have 10+ contributors for our white paper. We are very proud of our hard work and I hope that the Virtualization Expert Group continues to grow, marching toward our goal of bringing open source virtualization to production in vehicles.
What advice would you give to someone who is new to AGL or is considering getting involved?
Attend to face to face meetings, that's a great place to start! If that's not possible, connect with people through the mailing list, telephonic conferences or IRC. Find the expert group closer to your interests and start contributing and making questions.
There is no need to be a member to get involved in the AGL development, anyone can contribute!